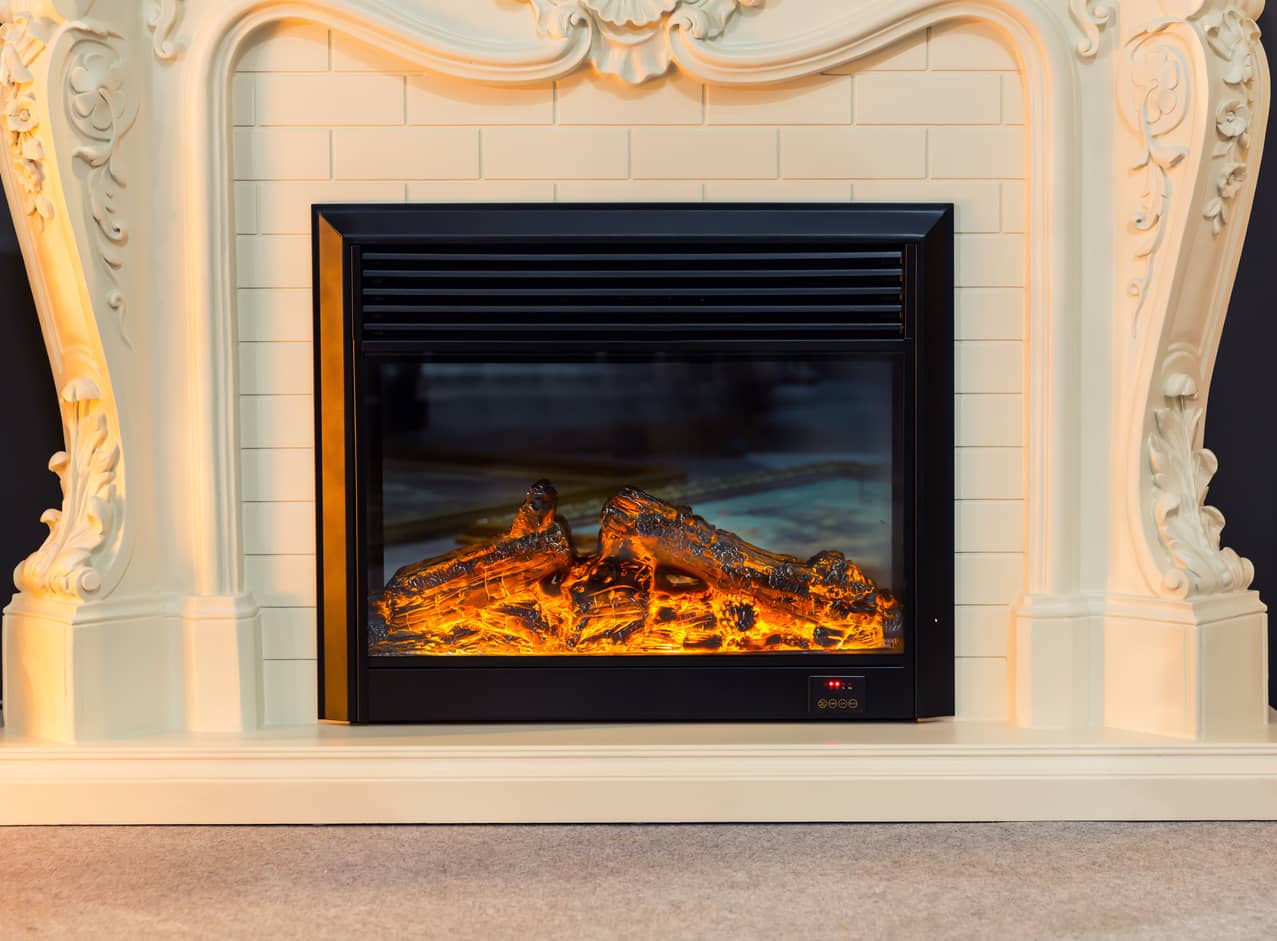 Heating your home can be done by many pieces of equipment in your home. For example, furnaces blow hot air through your vents to keep your home warm and cozy during the colder months. Additionally, your HVAC system can be switched to heat mode and send warm air throughout the home. In some cases, homeowners like to purchase amenities that add to the aesthetics of their homes. One of those amenities is an electric fireplace. Does an electric fireplace give off heat? Yes, they can give off heat while the ambiance of flames is operational.
Let's take a look below at what all of this means.
What Is An Electric Fireplace?
Typically, homeowners will something that provides added aesthetics and ambiance to their homes. Electric fireplaces will do both. Additionally, electric fireplaces can heat the area of the room that it is located in. It can be a very practical and decorative piece in your home. Also, electric fireplaces are energy efficient and smoke-free.
How Do They Work?
Similar to your ac unit, an electric fireplace uses a fan and heating coil system. The fireplace will take in cold air and the heating element will warm up the air. The moment the air is heated it is blown out into the room by the fan. Additionally, you can adjust the settings on the electric fireplace to change the realism of the LED flame effects. Also, the LED lights can be remote controlled.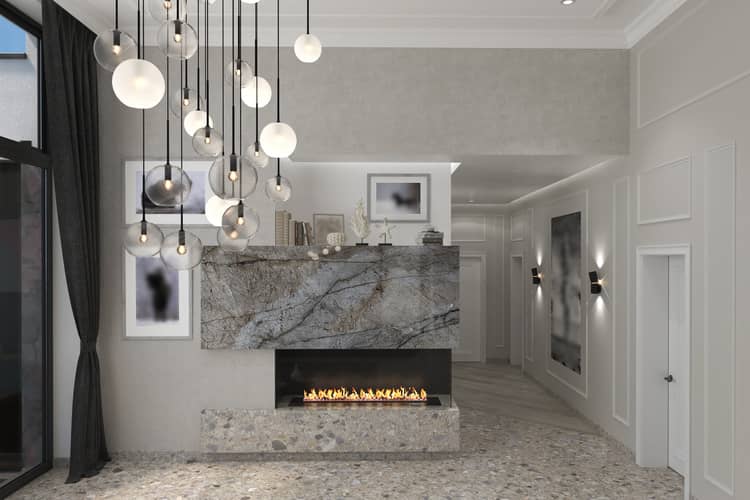 What Are The Pros Of An Electric Fireplace?
Believe it or not, there are a lot of pros to owning an electric fireplace. Let's take a look at what those can be.
Safe to use – Since there are no gaseous fumes, you aren't dealing with carbon monoxide. Additionally, there are no flames to worry about putting out. So, this makes them better than a gas or wood fireplace.
Easily installed – For a standard electric fireplace unit you just need an outlet that is wired as 120 volts. For any larger unit, you would need the outlet wired for 240 volts. You can even install it on a tv stand.
No Mess – Since there is no wood to burn or soot to clean, you are not making any messes. Also, the heat coming out is clean energy and not caused by combustion.
Cost-effective – You will not be purchasing any additional products to make the electric fireplace produce heat. In most cases, the average cost to run an electric fireplace is between 8 and 9 cents an hour. Typically, you will spend between $50 and $100 per year, running your electric fireplace.
What Are The Cons Of An Electric Fireplace?
Just like any good-looking piece of equipment with sensible advantages, there must also be some disadvantages or cons. Let's take a look at what the cons are of owning an electric fireplace.
Limited heat – The electric fireplace can only produce so much heat energy. So, if you are looking to warm the entire house that is not going to happen. The electric fireplace is meant to warm a specific location or room. Like a traditional fireplace, the heat output is not anywhere near that of wood-burning and gas fireplaces.
No power means no heat – Because the fireplace is electric, if your power goes out, so does your heat source. This could be problematic depending on where you live.
Reduction of Realism – because you are watching an electronically produced flame the realism of listening to a jumping flame as wood crackles are substantially reduced.
Reduced Ambiance – People enjoy the smell of wood burning and listening to the crackling sounds. Unfortunately, those areas are not possible with an electric fireplace. So, your level of coziness might be reduced a bit.
A dedicated circuit is needed – Typically, an electric fireplace will utilize up to 1,500 watts of energy. This would require it to have its own dedicated circuit to avoid tripping the breaker box for the home's electrical system. Also, it is advised to plug an electric fireplace into a dedicated circuit that has a 20 amp capability.
Other Recommended Maintenance
Now that you have an understanding of electric fireplaces giving off heat, you might want to read up on if electric fireplaces use a lot of electricity. This is a good idea before you purchase an electric fireplace. Get to know how it might help or hurt your utility bill.
Next, if you like the idea of an electric fireplace, look into a zero-clearance fireplace. They are very similar. Zero-clearance fireplaces often have thicker insulation so that they can be installed into a wall.
Lastly, if you have a gas fireplace be sure to read up on if black soot is dangerous. Any build-up of soot is dangerous for any fireplace. Luckily, an electric fireplace does not produce soot.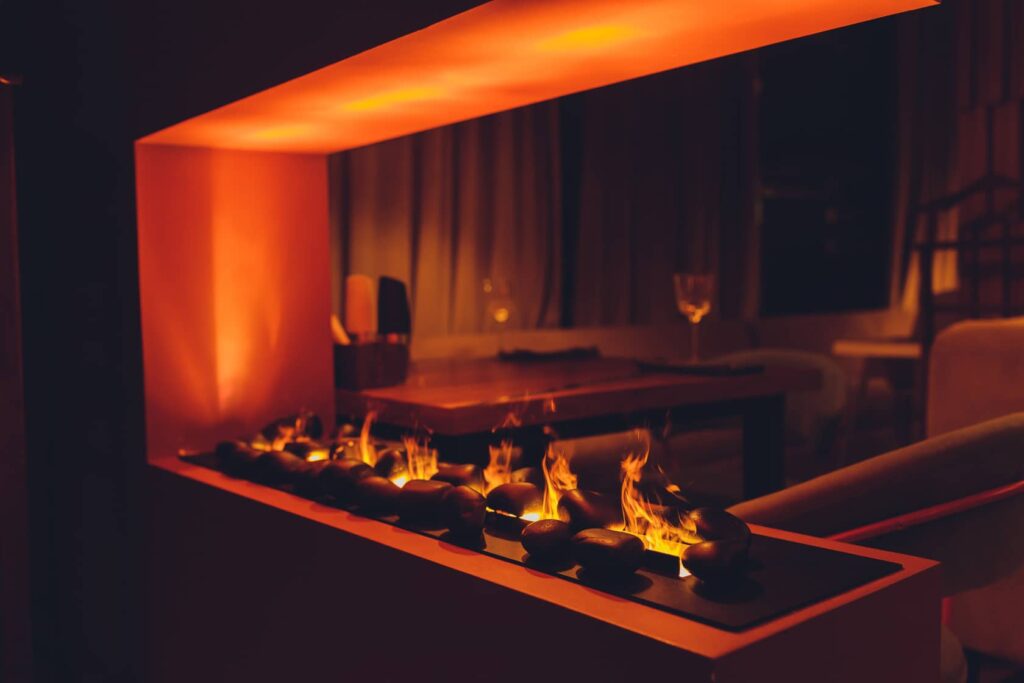 When Do I Call A Professional?
When you are purchasing an electric fireplace you are likely going to want it installed. Just because it can be as simple as plugging it in, does not mean you will understand the best way to mount it and have it looking nice.
Call a professional fireplace installation company and possibly an electrician to assist with the installation. Also, call on your local home inspection team to determine the best location for your electric fireplace. Additionally, they can recommend a reputable electric fireplace installation company.
Conclusion
Homeowners often see that installing an electric fireplace is an easy project. This is often due to the design and sleekness of the fireplace and the fact that it gets plugged in. Be sure to call your local home inspection company out to inspect the area where you would like to install the electric fireplace too.
They can advise you as to which wall makes the most sense based on your electrical setup. Reach out to All Coast Home Inspections for a home inspection in Houston, TX. They can refer you to the most reputable contractors and service companies in the field.